Sonoma Raceway will celebrate 50 years of racing during its 2019 race season, as the motorsports facility hosts a full slate of on-track activity while looking back at its incredible history in the Sonoma Valley
Honoring the raceway's history and memorable moments will be at the heart of the raceway's efforts in 2019, including celebrations to mark significant milestones in the raceway's history, signature celebrations at the raceway's major events featuring drivers and legends, and plenty of throwback images and memorabilia.
Race fans are invited to get in on the fun by sharing their memories, stories and pictures from events at Sonoma Raceway at the link below or on social media using the hashtag #Race50noma.
Since the days of Ricky Rudd, Dale Earnhardt and Ernie Irvan, Sonoma's famed road course has seen its share of memorable moments. In 2019, we'll return to our historic 12-turn, 2.52-mile road-course layout for the Toyota/Save Mart 350 NASCAR weekend. The full track layout, which was originally unveiled when the raceway opened in 1968, incorporates the signature sweeping downhill corner known as "The Carousel." Check back for more details about our NASCAR celebration.

Drag racing has been a key part of Sonoma Raceway since our first season in 1969. Then-Sears Point Raceway hosted its first national NHRA event in 1988, including wins by legends Joe Amato (Top Fuel) and Mark Oswald (Funny Car). Record-breaking speeds and sell-out crowds have been Sonoma signatures ever since. Be here as we celebrate our history at the NHRA Sonoma Nationals, July 26-28.

Sonoma has a long history of two-wheel racing, including the popular American Motorcycle Association national motocross races in the hills above Turn 7, as well as AMA Superbike racing dating back to 1977. The facility hosted annual AMA events from 1993-2012 and currently showcases MotoAmerica and the American Federation of Motorcyclists, as well as motorcycle track days.

Take a walk down memory lane with 50 years of Sonoma Raceway.

In honor of the 50th anniversary of Sonoma Raceway, we are calling out to our great racing fans for photos of their favorite moments with friends or family at Sonoma Raceway!
50th Anniversary Event Elements
50th Anniversary Display
Sonoma Raceway has assembled a display of iconic stock cars to represent some of the most memorable cars and drivers from NASCAR's history in Sonoma. Check out Kyle Busch's 2015 No. 18 M&M's Toyota, Jeff Gordon's 2006 No. 24 DuPont Chevrolet, as well as the No. 4 Kodak Oldsmobile driven by Ernie Irvan in 1991-1992 and Dale Earnhardt's No. 3 Goodwrench Monte Carlo from his 1995 win in Sonoma.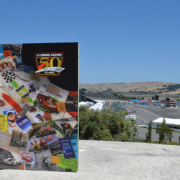 Sonoma Raceway Launches 50th Anniversary Book
To commemorate its 50 years history, Sonoma Raceway has released a limited-edition 50th anniversary book. The photo-filled memoir chronicles the raceway's history over five decades, including its tumultuous early years, emergence on the national racing scene and transformation following its purchase by Speedway Motorsports, Inc. in the mid-1990s. The book includes highlighted sections on the raceway's modernization in the late 1990s and its community involvement. The $30 book will be available at souvenir stands throughout the facility, as well as at Wine Country Motorsports in the main paddock.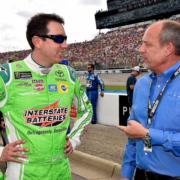 Toyota Racing Development Celebrates 40 Years, Named Grand Marshal
Toyota Racing Development, represented by TRD President David Wilson, is celebrating its 40th anniversary and has been named Grand Marshal of the Toyota/Save Mart 350. TRD boast five wins in Sonoma since they debuted in Cup Series in 2007 (Kyle Busch 2008, '15, Clint Bowyer 2012, Martin Truex Jr. 2013, '18).