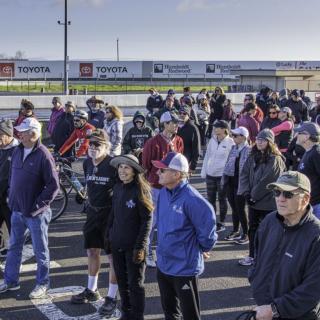 Tuesday January 21, 2020
More than 250 walkers, runners, bikers and four-legged friends took to the Sonoma Raceway road course on Saturday, Jan. 11, for the 9th annual John's March Against Stomach Cancer, the West Coast's only fundraising walk for No Stomach for Cancer. 
Recent Headlines
01/07/20

Sonoma Raceway is launching a new experiential automotive program that will allow drivers of all skill levels to enjoy the high-speed thrills of the premier wine country motorsports venue.

01/01/20

Beginning this year, the only personal motorized vehicles allowed on the property will be standard golf carts, which must be pre-registered with a credential that corresponds to the vehicle's identification number.

12/22/19

Race fans looking to rev up their new year are in luck, as Sonoma Raceway has opened its ticket office for the 2020 race season.

12/19/19

Professional and local drifters will battle for points and championship titles when the West Coast's largest drifting festival returns to Sonoma Raceway for two days of high-speed action this weekend at Winter Jam, Dec. 21-22.
More News