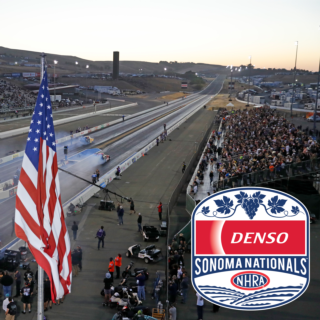 Friday January 14, 2022
Denso is the new title rights sponsor of the 2022 Denso NHRA Sonoma Nationals, July 22-24. The Denso NHRA Sonoma Nationals is the second stop of the annual NHRA Camping World Drag Racing Series Western Swing.
Read More
Recent Headlines
01/10/22

There's nothing like high speed turns at an iconic road course, and this year, NASCAR drivers will be flying down the Chute once again as Sonoma Raceway and NASCAR announced the return of the popular stretch of racetrack during the June 10-12 race weekend.

"We heard from many fans and drivers how much they loved it when we raced the Chute," said Sonoma Raceway EVP and General Manager Jill Gregory. "The Carousel was part of the original course and we reverted back to it for our 50th Anniversary in 2019 and used it again in 2021. But we race to bring excitement and drama to the fans, and an overwhelming majority of them asked us to bring back the Chute."

12/14/21

Forty-eight Sonoma County non-profit organizations will benefit from nearly $233,000 in grants recently awarded by the Sonoma chapter of Speedway Children's Charities (SCC), the charitable arm of Sonoma Raceway.

This contribution brings the chapter's total distribution of funds to more than $7 million since 2001.

11/30/21

For the 19th consecutive year, race fans and community members can help spread holiday cheer to Sonoma Valley children by donating toys to Sonoma Raceway's High-Powered Toy Drive.



All toys collected during the toy drive, which runs through Dec. 12, will be distributed to Sonoma Valley youth-serving organizations, including La Luz and El Verano Family Resource Center. 

11/23/21

Sonoma Raceway took the checkered flag on its 21st annual Thanksgiving Food Drive, delivering nearly 2,000 pounds of food to Friends in Sonoma Helping (F.I.S.H.).



The holiday bounty included nearly one ton of non-perishable food items. The raceway's annual food drive has distributed more than 41 tons of food since its inception in 2000.
More News