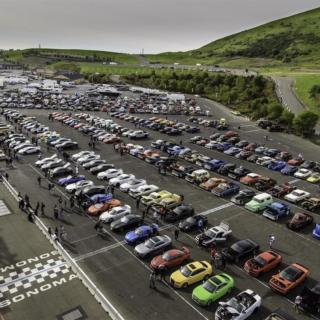 Wednesday October 13, 2021
Sonoma Raceway and Speedway Children's Charities (SCC) are welcoming spooky season with a frightfully fun Halloween Show & Shine on Sunday, Oct. 31 from 8 a.m. to noon. All proceeds from the cars-and-coffee style event will benefit the Sonoma Chapter of SCC, which cares for Sonoma County children in educational, financial, social and medical need.
Read More
Recent Headlines
10/05/21

Sonoma Raceway and its fans helped generate more than 72 units of critical blood donations for Northern California hospitals and medical facilities on Oct. 1, during the 20th annual Vitalant High-Speed Blood Drive.
           
Sonoma Raceway and Vitalant joined forces in an effort to bolster local donations during the blood shortage brought on by COVID-19. The blood drive welcomed more than 65 individual donors, with more than 20 being first-time donors. The High-Speed Blood Drive has generated approximately 1,490 pints of blood for area blood banks since 2001.     

09/29/21

NASCAR is trucking its way back to Northern California. The NASCAR Camping World Truck Series will make its return to wine country for the first time in 24 years when it returns as a companion event to the NASCAR Cup Series race on Saturday, June 11. Sonoma is one of three new venues on the 2022 schedule, which was released today by NASCAR.

09/17/21

Vitalant is joining forces with Sonoma Raceway to put a non-traditional spin on blood drives by giving donors a chance to get their hearts pumping with a high-speed "hot lap" around the road course prior to donating blood. Donors will ride along with a professional driving instructor in a KTM X-BOW around the 12-turn road course.

09/16/21

For 29 years, Steve Page stood at the helm of Sonoma Raceway and steered it into one of the premier sports facilities in Northern California.  But his legacy will extend far beyond the intersection of California State Routes 37 and 121.
           
Page retired Dec. 31, 2020, and a recent gift from Speedway Motorsports, Sonoma Raceway's parent company, will further cement Page's contributions to Sonoma County.
           
Speedway Motorsports has donated $100,000 to seven local charities in Page's name. Organizations with missions ranging from the support of college assistance, mentorships, parks, senior assistance and more will benefit from this gift.
More News