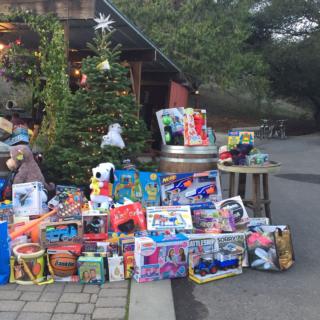 Tuesday November 30, 2021
For the 19th consecutive year, race fans and community members can help spread holiday cheer to Sonoma Valley children by donating toys to Sonoma Raceway's High-Powered Toy Drive.


All toys collected during the toy drive, which runs through Dec. 12, will be distributed to Sonoma Valley youth-serving organizations, including La Luz and El Verano Family Resource Center. 
Read More
Recent Headlines
11/23/21

Sonoma Raceway took the checkered flag on its 21st annual Thanksgiving Food Drive, delivering nearly 2,000 pounds of food to Friends in Sonoma Helping (F.I.S.H.).



The holiday bounty included nearly one ton of non-perishable food items. The raceway's annual food drive has distributed more than 41 tons of food since its inception in 2000.

11/17/21

Kyle Larson will get a champion's welcome when he returns to his hometown of Elk Grove on Monday, Nov. 22.

Sonoma Raceway and the City of Elk Grove have planned a day for all NASCAR fans to celebrate Larson's 2021 NASCAR Cup Series championship.

11/16/21

Sonoma Raceway and No Stomach For Cancer are teaming up to battle stomach cancer for the 11th annual John's March Against Stomach Cancer on Saturday, Jan. 22.


John's March is the only major fundraiser for No Stomach For Cancer on the west coast, offering a once-a-year opportunity to walk or run around Sonoma Raceway's 2.52-mile road course. This unique fundraising event has raised more than $154,000 over its 10-year history. It is named in honor of longtime raceway spokesperson John Cardinale, who passed away in 2013 after a two-year battle with stomach cancer.

11/10/21

Sonoma Raceway is accelerating into the season of giving with the 21st annual Thanksgiving Food Drive, bringing back physical donations in place of last year's virtual campaign.

Race fans and community members are invited to bring non-perishable food items to Sonoma Raceway (Gate 1), or Sonoma Valley Fire & Rescue Authority (2nd St. West) now through Nov. 17. All food collected will be distributed to Friends in Sonoma Helping (F.I.S.H.) in Sonoma.
More News