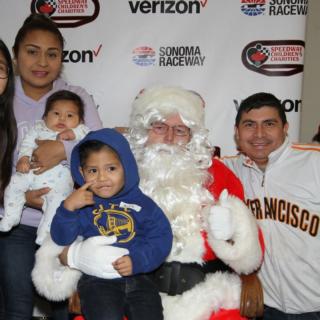 Saturday December 14, 2019
Nearly 300 Sonoma Valley children enjoyed a day of holiday cheer under sunny skies at Sonoma Raceway on Saturday at the 15th annual "Race to the Holidays" Children's Christmas Party.
Recent Headlines
12/13/19

Ever dreamed of tackling the Sonoma Raceway road course in your own car?  You can enjoy some high-speed thrills, all in the name of charity, as the Sonoma chapter of Speedway Children's Charities (SCC) hosts its 7th annual Laps for Charity on Saturday, Jan. 11.

12/05/19

Walkers and runners alike can join Sonoma Raceway and No Stomach for Cancer in the battle against gastric cancer at the 9th John's March Against Stomach Cancer on Saturday, Jan. 11.

12/03/19

If shoddy costumes and low-budget endurance racing is what you're looking for, you won't want to miss the 24 Hours of Lemons Arse-Freeze-Apalooza at Sonoma Raceway this weekend, Dec.7-8.

11/25/19

Sonoma Raceway took the checkered flag on its 19th annual Thanksgiving Food Drive today, delivering nearly 2,500 pounds of food to two North Bay food banks.
More News