Corporate Luxury Suites and Trackside Hospitality Chalets
Sonoma Raceway offers a corporate hospitality experience that is second to none; the true definition of "wine country" entertainment.  When it comes to rewarding key people for their contributions to your business, Sonoma Raceway has a number of exciting hospitality options that can accommodate your specific needs.  From private luxury suites to trackside chalets, Sonoma Raceway has just the ticket to make your next outing a success!
All catering at Sonoma Raceway is provided by Levy Restaurants and menus can be tailored to meet the most discriminating needs.  Levy Restaurants' passion for food and enthusiasm for creating a stellar culinary experience has inspired a "wine country" menu filled with a variety of mouthwatering options sure to complement your race day experience.
For more information or to purchase one of our suites or chalets, call Jerry Wheeler at 707-933-3929 or email jwheeler@sonomaraceway.com
Start/Finish Grandstand Suites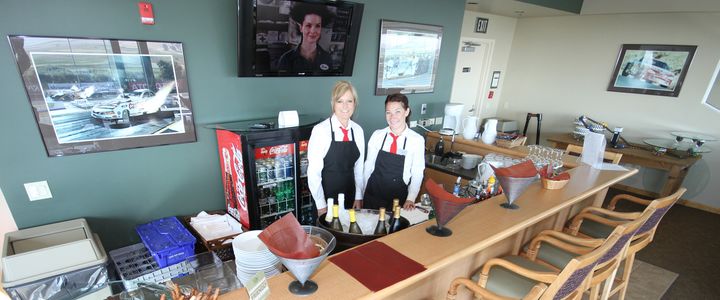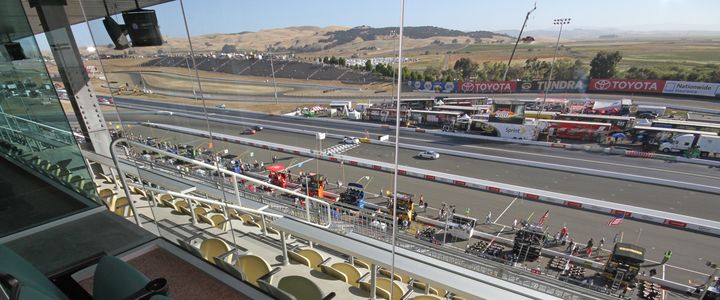 Sonoma Raceway's private Grandstand Luxury Suites provide the ultimate race-day experience in the wine country.  Set against the picturesque backdrop of Northern California's coastal foothills and nearby vineyards, Sonoma Raceway's Grandstand Suites are an ideal setting to entertain your company's valued customers, new business prospects or reward employees. In addition to being fully enclosed and air-conditioned, each Grandstand Suite features indoor and outdoor seating as well as closed-circuit TV, concierge, telephone service and suite level restrooms.
Designed to accommodate groups from 24 to 64 people, private luxury suites are available at the NASCAR, NHRA and IndyCar events.
Tower Suites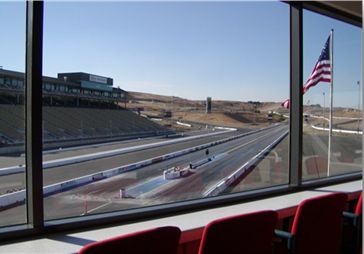 If you love watching the skill, speed and tactics of a professional race team in action, the Tower Suites were made for you. Located inside Turn 10 and at the starting line of the drag strip, the Tower Suites get you as close to the action as possible.  During the NASCAR and IndyCar races the cars literally drive around the building while the Tower Suites are just feet away from the dragsters during annual the NHRA event. Each Tower Suite is fully enclosed and air conditioned with food and beverage stations, closed-circuit TV and suite level restrooms.
Tower Suites are available in two sizes; the larger suite will accommodate 30 guests while the smaller suite holds 24 people.  The Tower Suites also offer the flexibility of adjoining suites with a pass-thru door, allowing connecting suites to accommodate groups of 50 or more guests.
Trackside Hospitality Chalets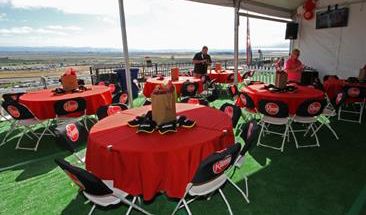 Unique to Sonoma Raceway is our ability to place private hospitality chalet trackside, which allows your guests to watch (and feel) the pulse-pounding action of NASCAR or IndyCar on one of North America's most challenging road-courses.
Whether used as a new business initiative, internal sales incentive or employee appreciation event, a trackside hospitality chalet on race day provides an ideal opportunity to thank key people for their contributions to your company's success. Trackside chalets can accommodate groups from 25 to 1,000 people.
Beau Wine Tours
Need transportation to and from the raceway? How about a wine tour during your stay?
Beau Wine Tours is Sonoma Raceway's official transportation provider and offers exclusive discounts to all raceway fans.
Beau Wine Tour Services Include: Private Custom Wine Tours, Group Tours, Hotel/Airport Transfers, Charter Transportation To and From the Raceway, Team Building & Site Inspections. Beau Wine Tours also offers luxury Sonoma & Napa Valley wine tours using the finest touring fleet and professional chauffeur tour guides in the industry. By choosing Beau Wine Tours, you'll have a wide variety of transportation options. Depending on the size of your group, you can choose from luxury sedans, SUVs, shuttle buses, coaches, executive vans, and their new Sprinter limousines.
For reservations please contact Beau Wine Tours at 707-938-8001 and mention "Sonoma Raceway" or click here to make a reservation online